Steve Tilley chose to speak about Mad People's History course developed in Ryerson University, Toronto Canada and how it has reached out all over the world causing much discussion to happen around how we perceive mental health.
This time it is about first hand experience documented by people who have encountered the psychiatric system…The 12th June was a great night and benefited from having Steve share his vocation in plain: Good evening – Kirsten and I feel privileged to have this opportunity to tell you about projects we feel passionate about. I will tell you about two videos that form part of Mad People's History, an online course from the Cheng School of Continuing Education at Ryerson University that won a Canadian award for best videography in an online course, last year. Read more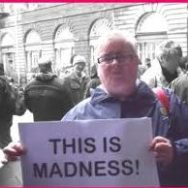 Kirsten made short talk at the 12th of June event.  She is a social historian and has been working on Oor Mad History a community history project about the history of activism by mental health service users in Lothian.  Service user led and supported by NHS Lothian, we look at ways of using community history and the arts to strengthen the service user voice and movement today and in the future.